The position of mission leader requires a good sense of management and team supervision, being methodical and rigorous, having good interpersonal skills and knowing how to take initiatives.
The initial training is a DCG (diploma in accounting and management), DSCG (higher diploma in accounting and management), often supplemented by years of experience.
What is the job of an accounting mission leader?
The mission leader in an accounting firm is most often the leader of a team of two or more accountants. Therefore, he supervises the files of the employees for the presentation to the accountant.
He is responsible for supporting and supervising a team of accountants, but also participating in the preparation of the auditor's audit. Ensures correct application of procedures and verifies work performed. He occupies an intermediate position between his team and the accountants.
Their missions are therefore both technical and managerial, close to project management. This can be the review of accounts, the preparation or verification of budgets, the creation of fiscal statements, fiscal and social statements. The chartered accountant can also entrust him with many other tasks.
The boss, meanwhile, works in structured companies, generally with more than 50 employees.
What is the average salary of an accountant?
Salary for this job depends on years of experience and level of supervision. The complexity of the mission, the experience of the mission leader or even the geographical sector are also factors that can influence the level of remuneration. There are different pay scales for the head of accounting missions, let's take those of the recruitment companies Hays, Fed Finance and PageGroup.
Recruitment company Hays publishes its year remuneration study. According to his salary scale, the minimum salary is 31,000 gross per year, this in many cases: that the head of mission oversees with technical or managerial supervision in a company of less than 50 employees and only in the provinces.
The maximum salary is 57,000 gross per year for a head of mission with managerial supervision of Paris Ile-de-France in a company with more than 20 employees.
We can therefore conclude that, according to Hays, the salary of a head of mission, whether it is a position with technical or managerial supervision, is between 31,000 and 57,000 grand per year in France.
Salaries haven't changed much since 2020.
Meanwhile, the recruitment company Fed Finance makes the distinction of a mission leader in a firm with less than and more than 50 employees. According to their salary scale, the minimum salary is 28,000 gross per year in PACA in a company of less than 50 people and the maximum salary is 60,000 gross per year in Paris Ile-de-France in a company with more than 50 employees.
On the part of PageGroup, which also publishes its remuneration study every year, the salary of a mission leader is between 42,000 and 70,000 gross per year.. This recruitment company does not distinguish between geography, management level or number of employees in accounting firms, only experience (between 0 and 2 years, between 2 and 5 years and between 5 and 15 years). Salary increases with experience level.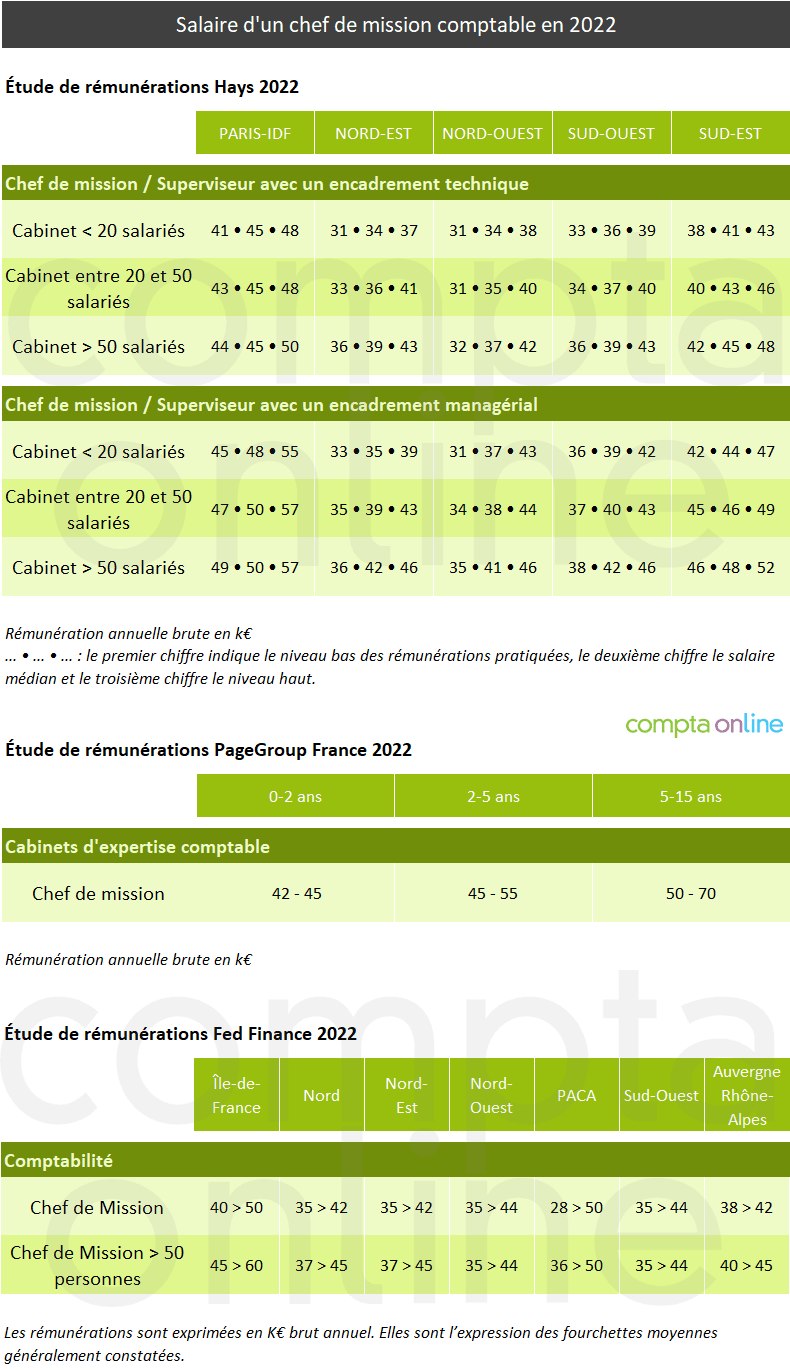 Trends in the accounting profession
According to the OMECA (Observatory of Commercial Doctors, Reviewers and Review Professionals), here are the development trends : :
enhancing computer skills and data analysis;
a greater specialization of the heads of accounting missions by sector of activity or type of mission;
development of consulting missions such as performance management, asset management.
and career prospects : :
other professionals of accounting companies: accountant subject to pass the DEC, Head of methods, audit professionals;
professions of the financial department: accounting department, management control, internal control, etc.;
consulting professions: financial consulting (financial consultant or transaction service consultant), management consulting;
financial analysis and asset management for banks, insurance companies, investment funds, etc.